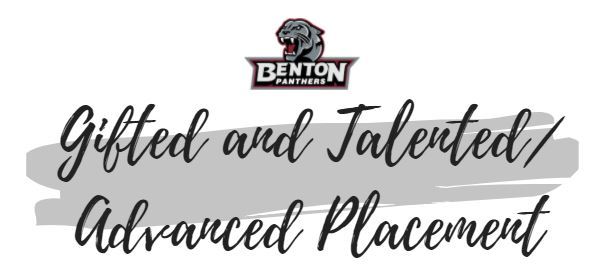 "PROVIDING STUDENTS WITH A DIFFERENTIATED CURRICULUM TO MEET THEIR INDIVIDUAL NEEDS"
The Gifted Program within the Benton School District celebrates the individual values, needs, and talents of each identified student and provides unique learning opportunities to advance their educational experiences.
Gifted students are those with high potential whose educational needs, learning characteristics, and abilities require substantially different educational experiences and services not provided for in the regular instructional program. In order to be identified for Benton's gifted program, a student must demonstrate high or superior ability, task commitment, and creativity.
Our gifted program will:
Extend the scope and horizons of curriculum

Promote higher level thought processes

Incorporate critical and creative thinking skills into instruction

Study in-depth areas of interest

Foster social and emotional well being

Cultivate an awareness and understanding of the world and their place within it

Create a sense of community that values the individual
In our commitment to quality education, the Benton School District adheres to the Arkansas Department of Education's Gifted and Talented Rules and Regulations.
PARENT REFERRAL: If you would like to nominate your child, please click Parent Referral to complete the following form.

GT STAFF
Kristi Chumley, Gifted and Talented and Advanced Placement Coordinator
kchumley@bentonschools.org
501-778-4861 ext. 1038
Anne Felan, Gifted and Talented Facilitator, Angie Grant Elementary
afelan@bentonschools.org
Annette Armstrong, Gifted and Talented Facilitator, Ringgold Elementary
aarmstrong@bentonschools.org
Kim Cole, Gifted and Talented Facilitator, Benton Middle School
kcole@bentonschools.org
Melanie Kiker, Gifted and Talented Facilitator, Howard Perrin Elementary
mkiker@bentonschools.org
Morgan Roseberry, Gifted and Talented Facilitator, Caldwell Elementary
mroseberry@bentonschools.org
GIFTED EDUCATION HELPFUL RESOURCES
ACT
PSAT/NMSQT Information
AP College Board
Arkansas Governor's School
Center for Gifted Education & Development
Duke Talent Search
Hoagies Gifted Education
AGQBA
National Association for Gifted Children
SAT
National Merit Scholarship
A.G.A.T.E.
Advanced Placement for Parents
Jodie Mahony Center for Gifted Education