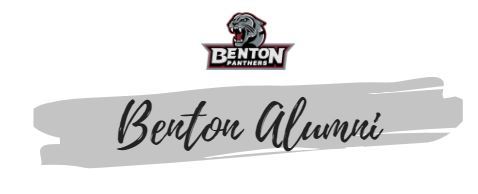 BENTON HIGH SCHOOL ALUMNI
DATES AT A GLANCE:

September 24: Homecoming Football Game

BENTON ALUMNI SUPPORT IS IMPORTANT AND CRUCIAL FOR OUR GROWING COMMUNITY. PLEASE FILL OUT THE FOLLOWING CONTACT FORM, SO WE CAN CONTINUE TO HONOR AND SUPPORT ALL BENTON HIGH SCHOOL ALUMNI!
Panthers dig out your old photo albums and send us your photos! Let's see those throwbacks and what you're up to now. Working to get an album going. Send the follow to jbradley@bentonschools.org
1. Name (First Last (Maiden))
2. Year Graduated
3. Where are you? What's your occupation?
Have an idea for current students? Want to be more involved? We'd love to have Panther Alum helping in our schools day. Email Benton Public Relations Director Jennifer Bradley at jbradley@bentonschools.org